Let's get real, if you haven't claimed your Google My Business (GMB) listing, you're already missing out on tons of opportunities.

This marketing tool is hugely underrated. Not all business owners grasp the massive advantages they can gain just by being present on the platform.

Google My Business was designed to allow local businesses to be visible to local consumers. This is one of the simpler ways to allow local businesses to adapt to the growing need for a more digitally savvy directory.

For local cleaning services businesses, this is just one of the many ways to get new clients locally and in neighboring communities.
What Is Google My Business?
Google My Business is another great tool that this tech giant has created for its valued users. It's a tool that provides almost everything that you need to create more visibility for your business. GMB allows every user to have a cohesive environment to manage how their business will be presented to the public along with the insights into how your listing is performing.
This essential tool can help you control how your business will be found on Google Maps, the Knowledge Graph, and on organic search results.
The business sector treats GMB as an online business directory. Google allows local searchers to find all the necessary business information from different companies — local, national and international. 
Keep in mind that your Google My Business profile is a representation of what your business is all about so it's recommended that you keep the details that you list accurate.
As an entrepreneur, know that Google will index and crawl your website and Google My Business should be treated as an extension of your company website.
Lastly, this also contributes to a ranking factor on Google's SERPs. Better rankings mean more brand awareness, leading to the prospect of more clients in the future.
What Are The Benefits of Google My Business To Cleaning Services Providers?
A recent study shows that 45,000 anonymous local business listings appear when doing a Google search. This proves that your presence on GMB is a great opportunity to get more traffic to your website and visibility for your brand as a result of your localized content.
Here are other benefits you can get when you finally claim your Google My Business listing.
The greatest reward is ranking benefits. With updated and detailed information, GMB helps you enhance your website rankings on SERPs. It will also show your business offerings based on the customers' requirements and searches.
Most local users prefer the brand that places higher in the rankings. It poses more authority and credibility compared to your competitors. 
It improves the listing of your business in local search results. Google will trace the location of users and GMB will display your business listing based on the products and services you offer. 


Businesses with verified information on Google My Business are considered reputable by prospective customers. Again, more credibility, more possible customers, more revenues. 


You can engage with your customers through reviews. Responding to the customers' reviews helps in strengthening the credibility of your business. Also, customers are satisfied when their concerns are heard and answered.



Concerning customer reviews, you offer a great first impression by showcasing your commitment to customer service. In addition, adding to the great first impression is the creation of an accurate GMB listing. It helps you to manage your representation, online.
Utilizing photo and video upload features give your customers the most thorough idea of what your business can offer them.
Additional Features Google My Business Can Offer
If you have a cleaning business a huge percentage of your potential customers are parents, professionals, and business owners who have little to no time to clean their homes or businesses. Fortunately, Google My Business has additional features that will make your services more accessible to your customers.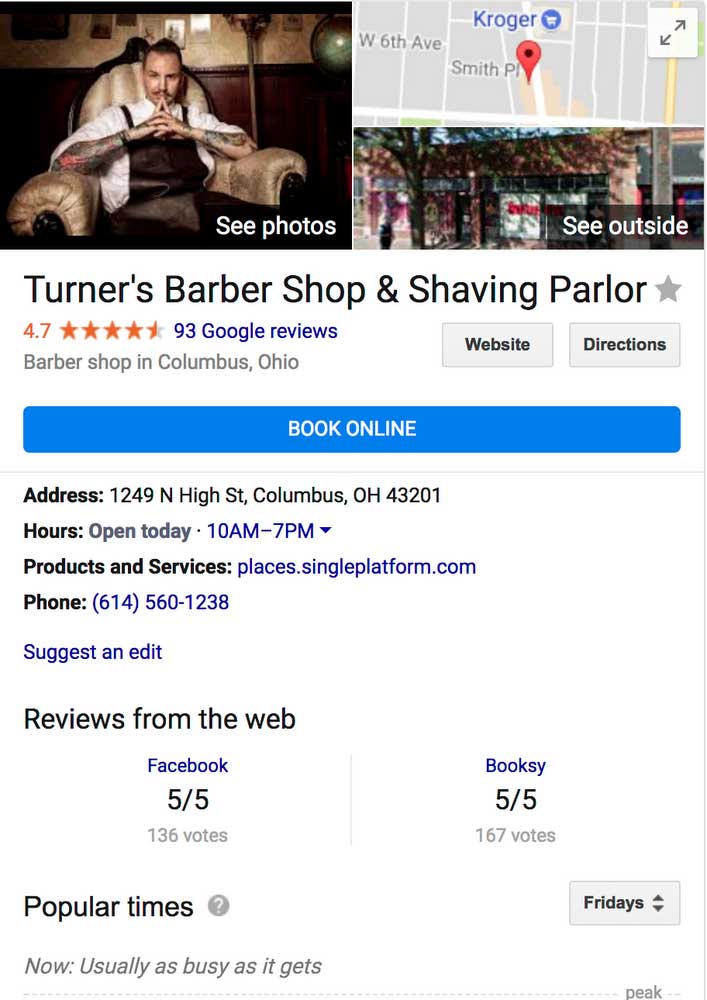 (Image source: Google Image)
There is a high probability that your potential customers are busy so you have to make the booking process fast and easy for them. The last thing you should do is to make them jump through hoops to connect with you. 
GMB offers a Booking feature making things easy for visitors to schedule appointments through your listing. This feature makes it more manageable for you as those booking an appointment will be able to use a simple online interface.
(Image source: Google Image)
If you have several cleaning services or any other special services you offer to your customers, you can use GMB's Menu tool to showcase all of them. 
GMB allows you to edit menu selections, including titles, prices, descriptions, and other information from time to time. This way, your audience will get all of the general information that they need directly from your listing.  If they need more specific information or would like to inquire further, they can always click to your website. The more information you are able to deliver on your GMB page, the more likely they will head to your website for further information or reach out for personal attention and assistance.
(Image source: Google Image)
If you can showcase your services, you can also let your audience know immediately if you have any existing discounts through the Offer Post Tool.
Relationship-Building Opportunity
(Image source: Google Image)
Building a thorough business listing, updating your information regularly, and connecting with audiences through posts – videos and photos, and review responses will showcase your strong customer service skills and commitment to excellence you deliver to your clients.
Furthermore, it will demonstrate your genuine interest in a personal connection that can be appealing to your potential customers and valued by the existing ones.
In case you didn't know, Google also has its own community. If you decide to put your business on the GMB listing, you have access to an extensive and knowledgeable community that can help you as an entrepreneur navigate the tool. Moreover, you can seek ways on how to better optimize your listing.
In return, you can provide the community with your ideas and valuable comment on related topics to your niche.
If this is an area that you feel you need some expert advice or assistance with, contact us and we can help you set up your GMB page.
Claiming your Google My Business listing will definitely help your cleaning business be more visible. However, if you know how to navigate it and make use of what's in it, you can reap better and more benefits. Coupling this initial introduction with professional cleaning services web design, you are sure to get that new client that needs residential or commercial cleaning services.
You can elevate things through search engine optimization. There are many ways to boost your online marketing and Web Design Agents is here to assist you with all of your needs.